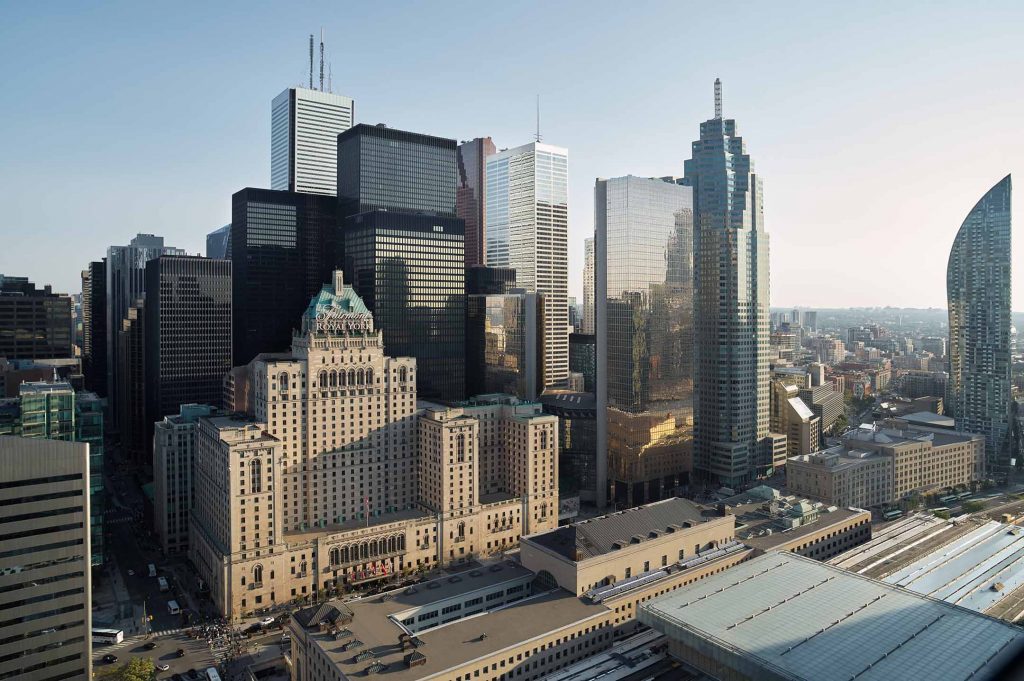 Investment poised to transform Toronto's landmark hotel into a sustainability leader within the hospitality industry
TORONTO, ON – The Canada Infrastructure Bank (CIB), Fairmont Royal York and KingSett Capital today announced an agreement which will see the CIB finance $38 million toward significant energy retrofits at the landmark hotel.
The CIB's financing will help Fairmont Royal York become a leader in sustainable accommodations. The hotel, which first opened in 1929, will target a zero-carbon balance and pursue the Canada Green Building Council's Zero Carbon Building Standards Certification™ in 2023. The investment will result in a significant reduction in carbon emissions, with the aim of reducing the iconic hotel's emissions by over 80 per cent.
"The CIB's investment solution will help decarbonize a historic Canadian landmark, paving the way forward for future green retrofits within the hospitality sector," said Ehren Cory, CEO, Canada Infrastructure Bank. "Our partnership with KingSett Capital enables a greener tourism economy and we stand ready to develop more innovative investments, accelerate projects and help meet climate change targets."
To date, the CIB has committed more than $800 million toward building energy retrofits. The financing will help cover upfront capital costs of the retrofits to enable the decarbonization of the hotel.
"We are proud to be partnering with the CIB to fund the decarbonization of the iconic Fairmont Royal York," said Jon Love, CEO of KingSett Capital. "This initiative, made possible by the CIB, adds strength and resilience to one of our core assets and advances KingSett's sustainability strategy. We are focused on setting meaningful reduction targets, executing decarbonization programs for our core assets and, most importantly, doing what is right for our stakeholders and the environment."
Fairmont Royal York, part of world leading hospitality group Accor, is committed to taking a leading role in the travel industry's sustainable development. This large-scale initiative marks a new era in the hotel's legacy as one of Toronto's most renowned destinations with more than 1.5 million annual visitors.
"Fairmont has a longstanding history of environmental stewardship, and this important effort is a transformative step in the hotel's journey toward minimizing climate change and reinforcing our pledge to our planet. We are fortunate to have steadfast partners that share our commitment to environmental sustainability, as well as our enthusiasm for ushering in the next chapter in hospitality," said Edwin Frizzell, Regional Vice President, Accor Central Canada and General Manager, Fairmont Royal York.
"With the travel industry's vibrant recovery came an increased expectation around sustainability, and it is our responsibility to continue to embrace impactful sustainability practices that reduce our environmental footprint and contribute to a better future for all."
The financing is expected to close in late 2022.
Quick Facts
According to the Hotel Association of Canada, prior to the COVID-19 pandemic, the accommodations industry generated nearly $22 billion in revenue annually and employed over 300,000 people.
Fairmont Royal York is one of two hotel properties owned by KingSett Capital-managed funds.
The CIB seeks to invest up to $5 billion into green infrastructure which supports climate change action and sustainable economic growth.
The CIB's investments are subject to approval by its Board of Directors.
Learn More
KingSett Capital is Canada's leading private equity real estate investment firm. Founded in 2002, KingSett has raised $15.4 billion of equity for its Growth, Income, Urban, Mortgage, Residential Development and Affordable Housing strategies, executing over $50 billion in transactions life to date. Currently, KingSett has $17 billion of assets under management in a $20 billion portfolio. KingSett continues to seek to further invest in decarbonization strategies for all of its properties, looking to enhance resilience and sustainability.
Timeless and iconic for over 90 years, Fairmont Royal York celebrates a new era as Toronto's landmark hotel with the revitalized Fairmont Gold, renovated lobby and new dining venues. With contemporary railway-inspired design, CLOCKWORK Champagne & Cocktails hosts a bubbly cocktail offering with tasteful metropolitan fare. Steps from the lobby, REIGN features three dining experiences: REIGN Restaurant serves sophisticated cuisine from the bounty of Canada's rich landscape; REIGN Bar toasts to Toronto's Jazz-Age revival with a prestigious wine list, signature tasting boards, and live entertainment; while REIGN Bakery creates a charming morning ritual with artisanal-roasted coffee and freshly baked goods. Renowned as the city's cocktail den, the legendary LIBRARY Bar returns with the Birdbath Martini crafted as a masterpiece.
For upscale luxury, Fairmont Gold is a hotel-within-a-hotel featuring elegantly appointed suites, premium services, and an exclusive lounge on the 18th floor. The place of occasion, Fairmont Royal York is the city's destination for glamorous wedding celebrations and inspiring events – embracing a legacy that is famous for generations.
For more information, please contact:
KingSett Capital
Heather Ritzer
Edelman Smithfield Canada
[email protected]
416-894-6848