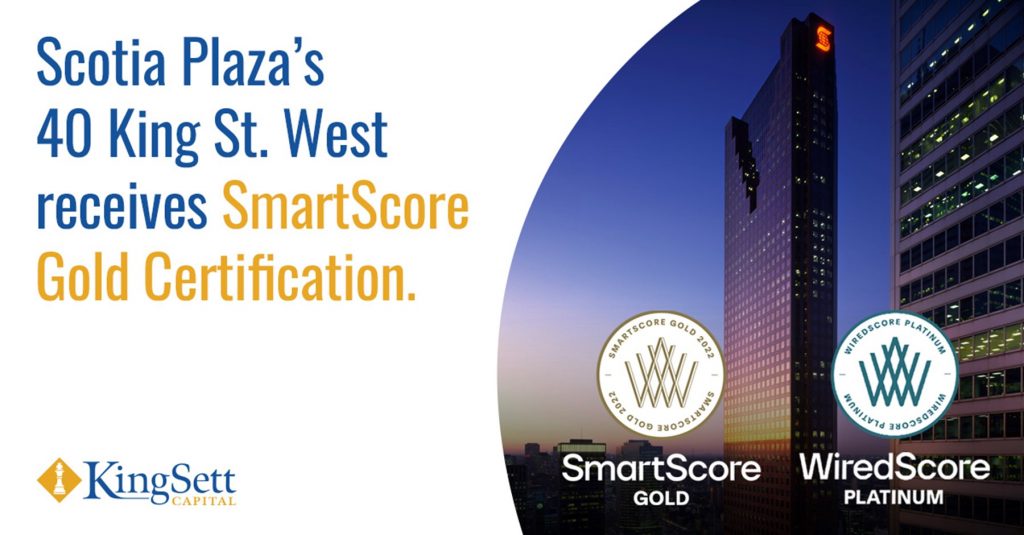 Scotia Plaza's 40 King Street West has achieved SmartScore Gold Certification, making it one of the smartest places to work in the world. This certification demonstrates the building's cutting-edge innovation through the use of market-leading technology, processes, and automation to deliver world-class service to all users of the building.
40 King Street West is located in the financial district of Toronto, Canada. The building achieved this certification through a range of initiatives which include the implementation of a smart building strategy, the deployment of a tenant engagement app, and the establishment of a stringent cybersecurity policy. Moreover, the installation of a smart technology foundation (base building network) has also allowed for rapid deployment of new connected devices and systems.
The achievement of SmartScore Gold Certification at Scotia Plaza's 40 King Street West reflects KingSett's commitment to innovation and sustainability in its portfolio. It showcases the potential of smart buildings to create highly sustainable, inspirational, cost-efficient, and future-proof spaces for the benefit of all building users.
About SmartScore
SmartScore is a globally recognized smart building certification developed by WiredScore. It is the global standard for smart buildings and helps landlords and developers build cutting-edge smart buildings that deliver exceptional user experiences, drive cost efficiency, meet high standards of sustainability, and are fully future-ready. The SmartScore certification has four levels, and buildings that meet the strict criteria for reliable, secure, and future-ready in-building technology are awarded one of these levels to reflect their excellence.
About KingSett Capital
KingSett Capital is a pioneer in the Canadian private equity real estate industry, co-investing with institutional and ultra-high net worth clients to deliver sustainable, premium risk-weighted returns. With over $17 billion in assets under management and a $19 billion portfolio, KingSett has a proven track record of success, having raised $15.4 billion in equity for its Growth, Income, Urban, Mortgage, Residential Development and Affordable Housing strategies since its founding in 2002.
In recognition of its commitment to sustainability, KingSett was the sole Canadian entity ranked #1 globally in the 2022 Global Real Estate Sustainability Benchmark (GRESB) Survey for both Standing Investment and New Developments. As a leader in the industry, KingSett remains dedicated to moving the real estate sector forward and seeking new investment opportunities in a wide range of real estate properties, developments, joint ventures, and mortgage lending.