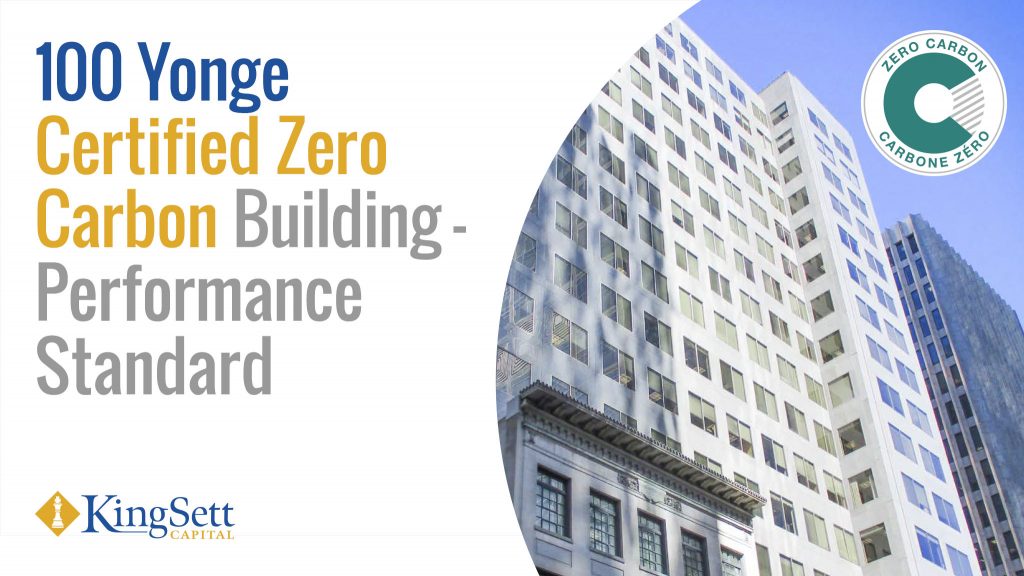 Toronto, ON – KingSett Capital's Scotia Plaza building at 100 Yonge Street in downtown Toronto has achieved the prestigious Zero Carbon Building – Performance Standard. This marks a major milestone in KingSett Capital's Three-Phase Decarbonization Strategy as we work towards our decarbonization goal of 35% of carbon emissions across our CREIF portfolio by 2027.
100 Yonge is a Class "A" office building with 275k sf of space and is the second building in our portfolio after 40 King Street West to receive this certification.
KingSett's Decarbonization Strategy has included replacing end-of-life boilers and chillers, upgrading air handlers with heat recovery, and installing air source heat pumps to replace the existing heating plant.
Thanks to these efforts, we will eliminate 549 tonnes of carbon emissions annually – a 76% reduction – equivalent to removing 118 passenger vehicles from the road. These results exceed the Carbon Risk Real Estate Monitor (CRREM) guidelines for Canadian office building emissions by 2050, which are aligned with the Paris Climate Agreement and Science Based Targets Initiative (SBTi).
KingSett Will Eliminate 30 Times More Carbon Emissions
The Decarbonization Strategy for our CREIF portfolio and the Royal York Hotel will eliminate over 10,000 tonnes and 7,700 tonnes, respectively, of carbon emissions prior to purchasing carbon offsets, once executed. Focused on building resilience throughout our portfolio, we are proud to be a leader in sustainability and responsible real estate investing. Join us in our mission to drive positive change and set an example in the real estate industry.
About the Zero Carbon Building – Performance Standard v2 Certification
The Zero Carbon Building – Performance Standard is a framework for verifying zero carbon operations of existing buildings. Zero carbon buildings represent the industry's best opportunity for cost-effective emissions reductions that spur design, building materials and technology innovation, creating jobs and business opportunities. The second iteration of the standard introduces greater rigour while increasing flexibility to support the goal of transforming all buildings to be zero carbon.
About KingSett Capital
KingSett Capital is a pioneer in the Canadian private equity real estate industry, co-investing with institutional and ultra-high net worth clients to deliver sustainable, premium risk-weighted returns. With over $17 billion in assets under management and a $19 billion portfolio, KingSett has a proven track record of success, having raised $15.4 billion in equity for its Growth, Income, Urban, Mortgage, Residential Development and Affordable Housing strategies since its founding in 2002.
In recognition of its commitment to sustainability, KingSett was the sole Canadian entity ranked #1 globally in the 2022 Global Real Estate Sustainability Benchmark (GRESB) Survey for both Standing Investment and New Developments. As a leader in the industry, KingSett remains dedicated to moving the real estate sector forward and seeking new investment opportunities in a wide range of real estate properties, developments, joint ventures, and mortgage lending.